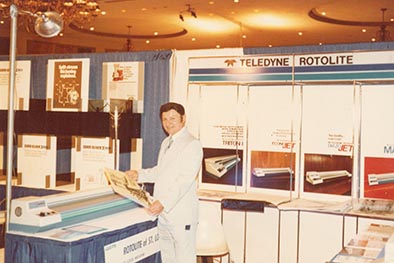 Founder, Carl Haupt, demonstrating with one of the first Rotolite blueprint machines.
Servicing
the Midwest
Since 1959
Rotolite of St. Louis, Inc. has been servicing the needs of architects and engineers since 1959. It's founder, Carl Haupt, was the driving force behind the company and was the president and an active worker in the company until his death in 1995.
Rotolite is now managed by his two sons, Paul Haupt, who is vice-president of operations, and Steve Haupt, who is vice-president of sales. The company started small in 1959, selling the newly released Rotolite blueline machine, but has grown steadily over years.
Technology has changed tremendously, and Rotolite stands committed to offering the most reliable and technologically advanced equipment and products to it's customers.

Pictured Left: Carl Haupt hard at work.
Pictured Right: Carl and his sons Paul (left) and Steve (right), in 1989,
posing with the first of many Top Central Region Xerox Dealer plaques.